Tide Original Laundry Detergent – Chemical Toxicity & Ingredients
Tide Original Scent HE Laundry Detergent - Toxicity & Ingredients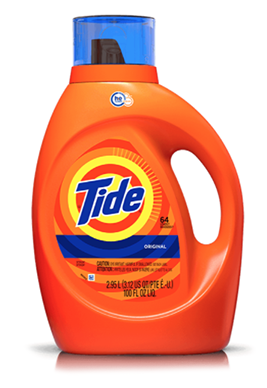 As America's #1 detergent (as claimed by P&G), tide liquid laundry detergent has 10x the cleaning power and engineered to attack tough body soils. This translates to increased toxicity, since the chemicals in this Tide laundry detergent are extremely potent and damaging to any organic substances they come in contact with. The quick-collapsing suds of this high-efficiency detergent clean faster and rinse out quicker, even in cold cycles. Obviously the heat is not an issue with this detergent formula, since it can break down and destroy organic fibers even at low temperatures.
Tide is a laundry detergent owned and produced by American multinational Procter & Gamble. Introduced in 1946, it is the highest selling detergent brand in the world, with an estimated 14.3 percent of the global market.
Toxic ingredients of Tide Original HE Laundry Detergent
Toxic ingredients of Tide Original Scent HE Turbo Clean Liquid Laundry Detergent represents a class and composition of toxins that include Solvents, Surfactants and Polymers. These are highly concentrated inorganic substances that are extremely damaging to cellular organisms upon direct contact.
Sodium Laureth Sulfate – Surfactant, Cleaning Agent
MEA-Dodecylbenzenesulfonate – Surfactant, Cleaning Agent
SC12-16 Pareth
Diethylene Glycol
Sodium C10-16 Alkylbenzene Sulfonate
Propylene Glycol
MEA-Citrate
MEA Salts Of C12-18 Fatty Acids
Sodium Lauryl Sulfate
Pentasodium Pentetate
C10-16 Alkyldimethylamine Oxide
Fragrance
Fluorescent Brightener
Phenylpropyl Ethyl Methicone
Sodium Cumene Sulfonate
Simethicone
Trimethylsiloxysilicate
Liquitint Blue AH
Trimethylsiloxysilicate
Mannanase
Toxic effects of Tide Laundry Detergents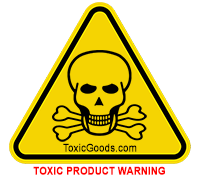 Is is worth noting that ingredients in toxic laundry P&G products are intentionally made to stick to fabrics, mostly to keep our clothes smelling "clean." This means that as we wear our clothes and sweat, these chemicals break down and are being absorbed through our skin and via breathing in the fumes. So when we use these products we are being exposed to these chemicals essentially all the time, even when we sleep.
Tide itself publicly announced that their laundry products contain "highly concentrated 1,4-Dioxane toxic detergent." Those are also the words of the U.S. Consumer Product Safety Commission. Tide laundry detergent is toxic. 1,4-Dioxane is used as a solvent. Acute (short-term) inhalation exposure to high levels of 1,4-dioxane has caused vertigo, drowsiness, headache, anorexia, and irritation of the eyes, nose, throat, and lungs in humans. Damage to the liver and kidneys has been observed with long-term exposure. Tumors have been observed in orally exposed animals. EPA has classified 1,4-dioxane as a Group B2, human carcinogen.
Additional Tide Toxicity Data
Hazards Identification: skin irritation/allergies/damage, acute aquatic toxicity, respiratory effects, bio-degradation. Other post-exposure symptoms to the multitude of chemical substances utilized in the above detergent: acute aquatic toxicity, general systemic/organ effects, skin irritation/allergies/damage, respiratory effects, damage to vision, developmental/endocrine/reproductive effects,
Hazardous Ingredients as defined by OSHA, 29 CFR 1910.1200.
Common Name Chemical Name CAS No. Composition Range LD50
Polymer Ethoxylated polyethylene polyamine 68130-99-4 3-7% > 5 g/kg Anionic surfactants. Alcohols, sulfated, neutralized 68910-32-7 15-40% total 1.09 g/kg. Alcohols, ethoxylated, sulfated, neutralized
162201-45-8 5 g/kg. Non-ionic surfactants. Alcohols Ethoxylated 68551-12-2 10-30% > 1000 mg/kg
Emergency and First Aid Procedures:
Ingestion: Drink a glassful of water or milk and call a Poison Control Center or doctor immediately. DO NOT INDUCE VOMITING.
Eye Contact: Rinse immediately with water for 15 minutes and seek medical care.
Skin: Rinse thoroughly with water. Remove contaminated clothing. Seek immediate medical attention.
Other: Consumer product package has a caution statement: "CAUTION: Eye irritant. Harmful if swallowed. KEEP OUT OF REACH OF CHILDREN. DO NOT INGEST. Do not get in eyes. FIRST AID TREATMENT: Contains nonionic and anionic surfactants, ethoxylated polyethylene polyamine (polymer) and enzymes. If swallowed, call a Poison Control Center or doctor immediately. Do not induce vomiting. If in eyes, rinse immediately with plenty of water for 15 minutes, and seek medical advice. If on skin or clothing, remove contaminated clothing and rinse skin well with water.
Personal Precautions: Wear appropriate personal protective equipment